Computer- Based Training Scheme (Purchase and Software Development)
Overview:

Computer-Based Training (CBT) is a scheme designed to enable employers to purchase or develop software that will help them in re-training and upskilling their workforce. This is a great programme for employers that are unable to release their employees to attend external training away from the company's premises. CBT also assists employees in embracing self-pace learning due to its flexible learning hours, training location and environment, as well as the use of training software packages.
HRD Corp Support*:
Financial Assistance
Development of Computer Software

*100% approval (subject to the availability of Levy Balance)
As for the purchase of computer software, employer may proceed to apply claim directly (without grant application).


Employer are required to write an email and provide the details to

supportclaim@hrdcorp.gov.my

for verification before purchased.

Click here

for more information.
Application Procedure:
Employers may submit their applications via e-TRiS under the CBT scheme.



Required supporting documents:
Quotation to

develop software

Proposal for software development
Application for approval must be in the
form of a proposal paper
submitted to HRD Corp at
least one month before software development commences.
The proposal paper must contain the following:

LEARNING MANAGEMENT SYSTEM (LMS)
Upgrading, customising, adding the content of the module for online learning in the existing LMS (one year after application is approved).
Upgrade the functions, features and specifications of the LMS (one year after the application is approved).
LMS is allowed for system installation or cloud-based specifications.



APPLICATION GUIDE:
1. Login to your Employer's eTRiS account.
2. Click on Applications.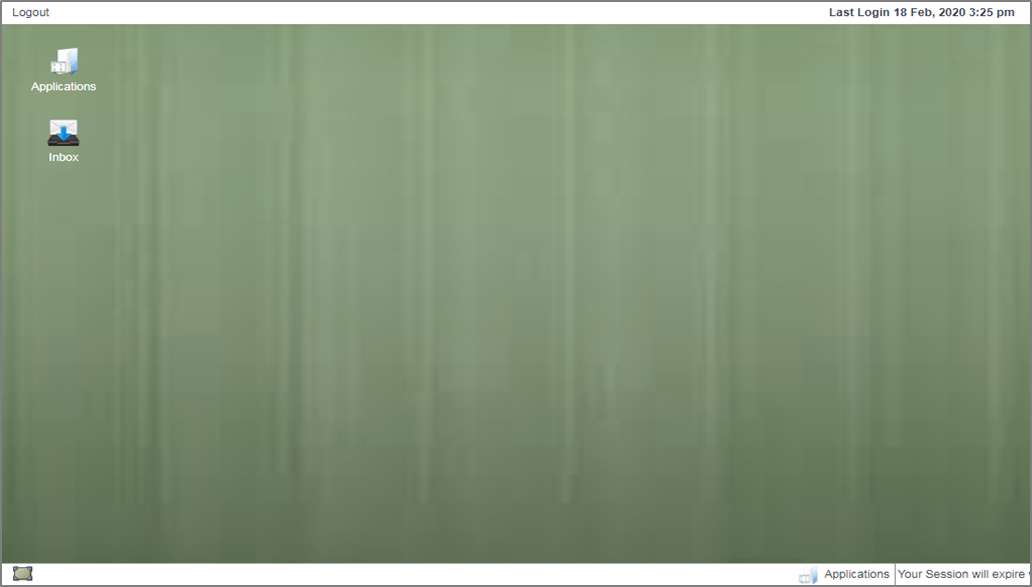 3. Click on Grant.
4. Select Apply Grant

5. Select CBT from the Scheme Code drop-down menu and click Apply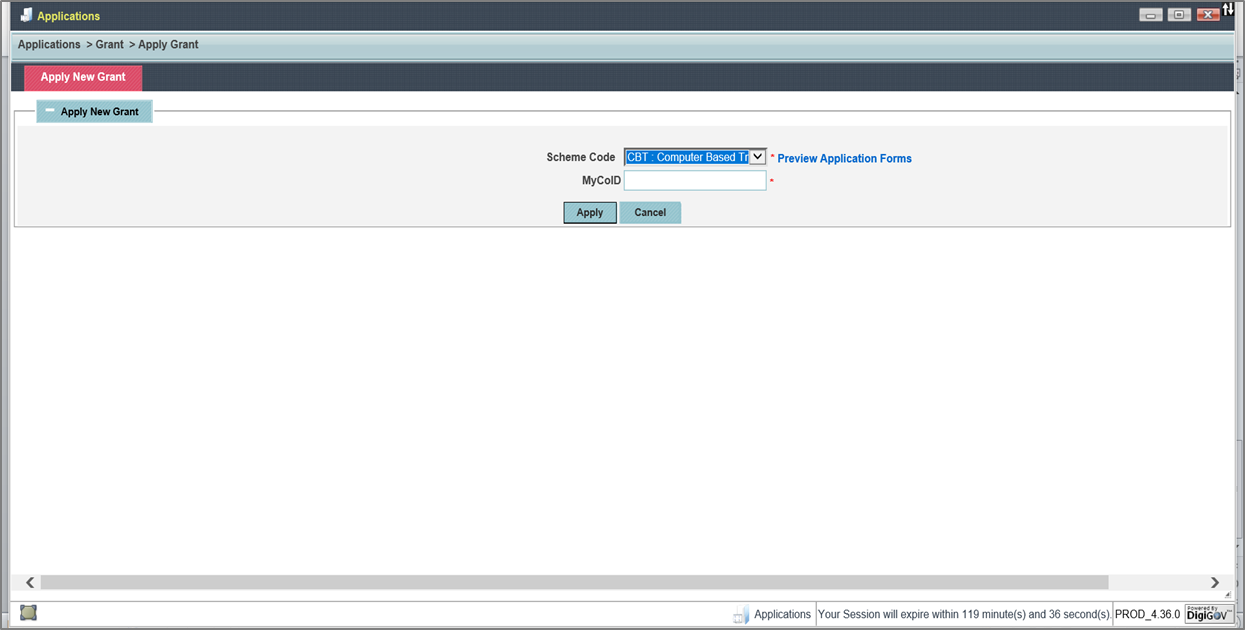 6. Fill in the required information in the Employer's Profile section, including selecting your Immediate Officer, and click Next.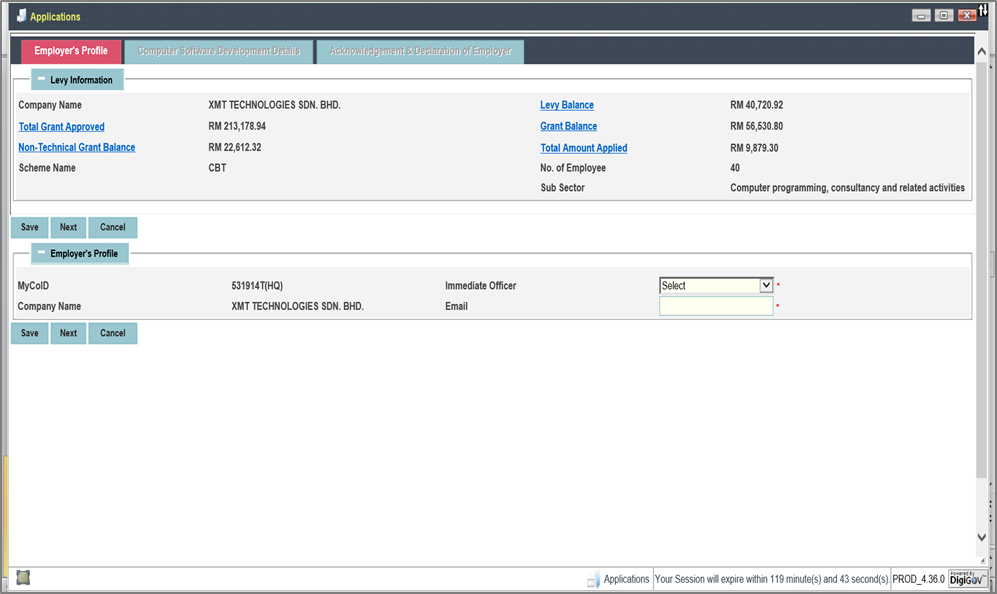 7. Fill in all required information in the Computer Software Development Details section and click Next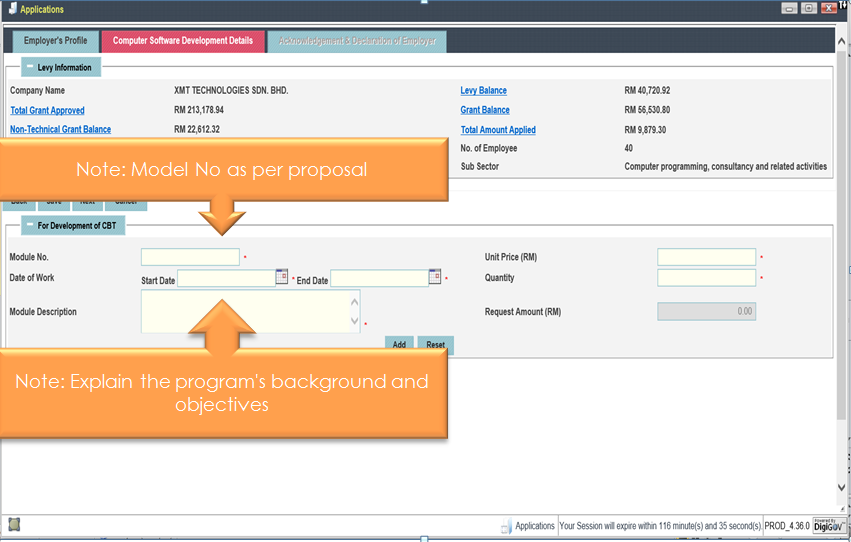 8. Fill in all required details and click Add and Save.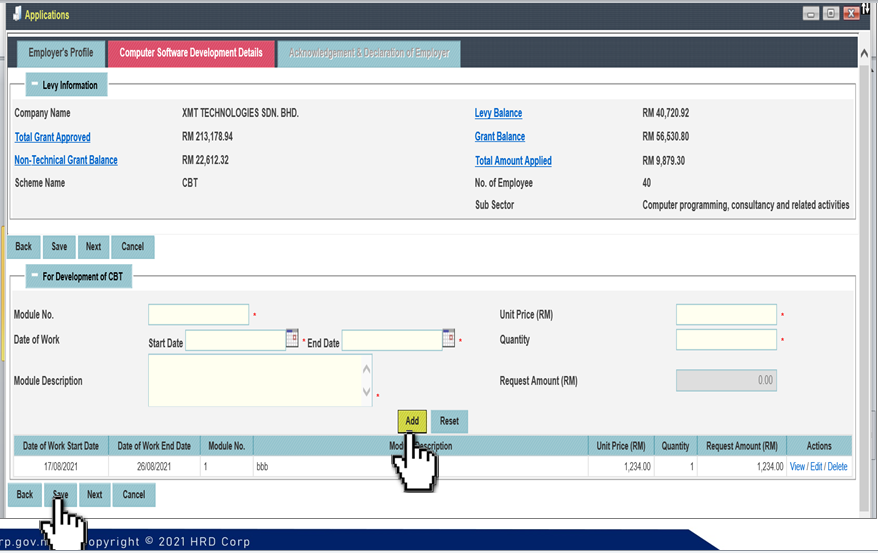 9. Tick the checkboxes in the Acknowledgement & Declaration section, Select the name from the drop-down menu, fill in the rest of the required information and click Save.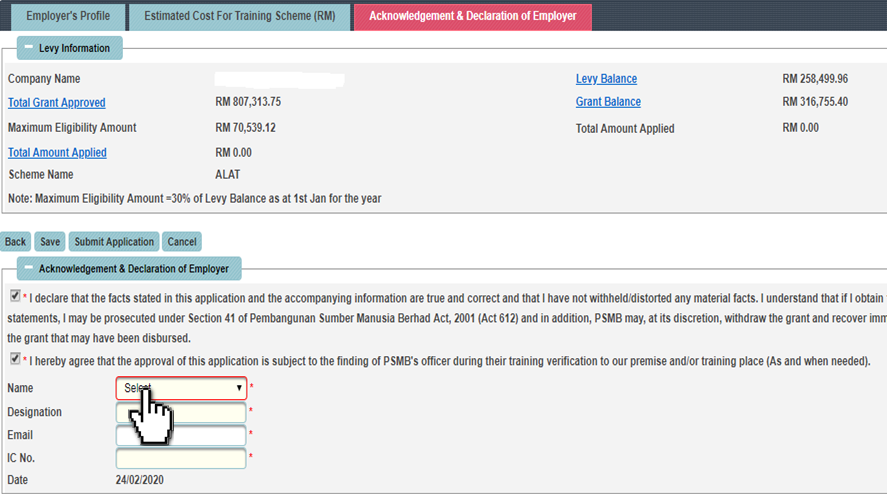 10. Attach all required supporting documents, click Add Attachment followed by Save and Submit Application.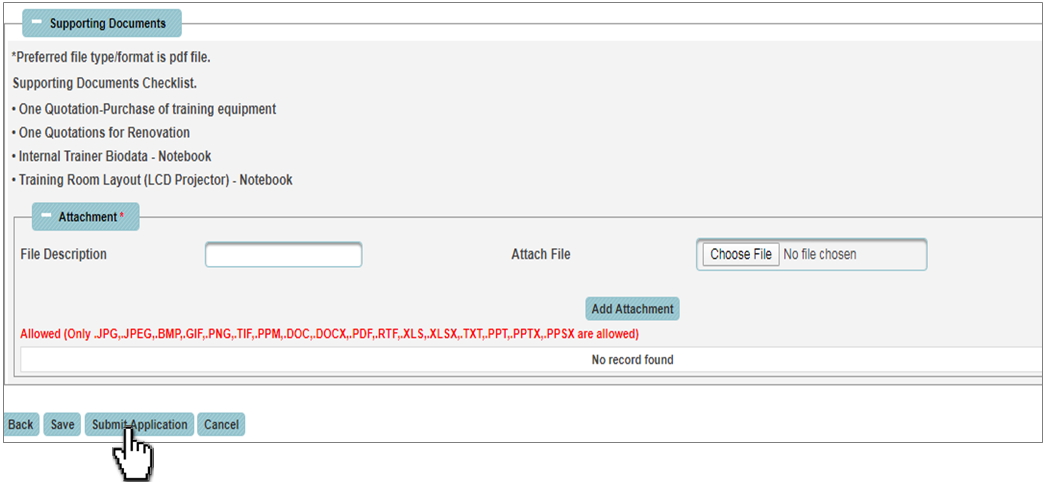 11. Applications that have been successfully submitted will be reviewed by the Grants Officer within two (2) working days. The Grant Officer may also request further information, clarification or supporting documents if and when necessary.
12. The application status, including approval, will be updated on the employer's eTRiS Dashboard and Inbox. Employers will also be notified via email.
Click
here
for more information.
Related Articles

Training Facilities & Renovation Scheme (ALAT)

OVERVIEW: ALAT is a scheme developed by HRD Corp to encourage employers to carry out their own in-house training and skills development programmes. Through ALAT, HRD Corp funds the purchase of training aids and the set up, renovation and ...

Information Technology Scheme (IT)

OVERVIEW: Information Technology and Computer-Aided Training (IT) is a scheme designed to encourage employers to further re-train their employees in the field of Information Technology through financing the purchase of computers and related ...

Industrial Training Scheme (ITS)

OVERVIEW: Industrial Training (ITS) is a scheme designed to provide financial assistance to undergraduates or trainees undergoing training at their chosen business organisation. ITS enables employers to obtain financial assistance to sponsor ...

On-the-Job Training Scheme (OJT)

OVERVIEW: On-the-Job Training (OJT), is a scheme designed to encourage a skilled worker/supervisor to train and equip a new employee with relevant skills. This will facilitate the transfer of skills, knowledge, and competencies that are needed for ...

Skim Bantuan Latihan Scheme (SBL)

OVERVIEW: Skim Bantuan Latihan (SBL) is a programme designed to assist employers in retraining and upskilling their employees, in line with their operational and business requirements. ONLY applicable for*: In-House training conducted by internal ...
Popular Articles

Levy Calculation Guideline

Section 2 of the PSMB Act 2001 Employee Any citizen of Malaysia who is employed for wages under a contract of service (full-time employment whether contract or permanent staff) with an employer, but does not include any domestic servant. If the ...

E-Disbursement Application

Login to eTRiS System > Application > Profile Management > Employer / Training Provider > E-Disbursement Form and attach latest bank statement (front page only) > Submit. ​ Note : The approval for E- Disbursement registration will take 3 workings ...

Levy Arrears - Form 3 Schedule of Arrears

Employer circular 08/2015 - Employers have to fill up form 3 before make payment for arrears payment. The process days will take 3 working days and will notify through the "inbox" in Etris System. NOTE: please check Form 3 status ...

HRD Corp Focus Area Courses

1. What are HRD Corp Focus Area Courses? Based on the nine (9) pillars listed in the table below, HRD Corp Focus Area Courses are developed with the aim of supporting Government initiatives in nation building. The courses offered through the ...

Levy Forfeiture

Section 25 of the PSMB Act 2001 If an employer does not make any claims from the Fund within such period as may be determined by the Board from the date of its registration with the Corporation or from the date of the last financial assistance or ...